Enabling Worthing and the surrounding area to be more sustainable, one step at a time.
SIGN UP FOR OUR FREE NEWSLETTER
Finally, we have the pleasure of co-presenting the Community Climate Conference at The Assembly Hall on Thursday 19th October from 3-7pm.
The next Plastic Free Worthing beach clean will be Sunday 29th October from 9am onwards, meeting outside the Coastal office by the lido.
TTW were invited to present our Map at an online skillshare on mapping on 13th September.
Transition Town Worthing (TTW) is an active, solutions focused organisation, working creatively and practically together – both as individuals and groups – helping to reduce CO2 and create a more sustainable community.
We raise awareness of how to move towards a low-carbon lifestyle, taking into consideration social and economic justice. We have built a strong local network of like-minded groups and individuals, all working together to support the local economy, reduce our environmental impact and build community resilience.
TTW is a CIC (Community Interest Company) supported by local volunteers and two paid part-time staff.
Anyone is welcome to volunteer by contributing time, energy or creative new ideas for our ever-evolving projects and events.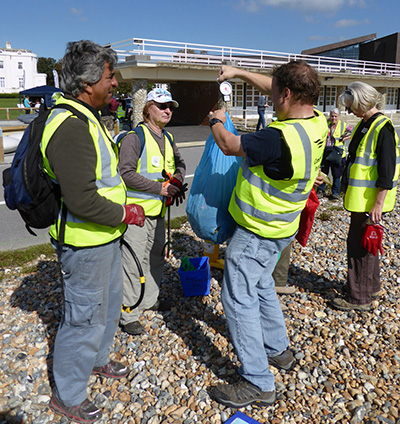 We are lucky to have the valued support of our members and a wonderful team of volunteers helping us to run our projects and events.
Without them Transition Town Worthing could not achieve the things we do.
The Board of Directors
The TTW Board of Directors are all volunteers with the positions reviewed annually at the AGM.
The Board currently consists of seven members:
Steve Limbrey – Chairman

Pauline Cory

Sam Bailey

Rolf Londal

Francoise Grimshaw

Julia Carrette

David Pope
Key roles are to hold monthly meetings to keep up to date with what's going on and what we need to work on, fund, source etc., and to maintain the smooth running of the organisation.
If you would like to join the Board of Directors, we would love to hear from you.
We can always use the experience and skills of others within the community at this level to help steer, develop and ensure the sustainability of our work.
We currently have two members of staff.
Sarah Slight works as the TTW administrator and Stuartt Seaton is the TTW bookkeeper. All staff work from home on a part-time basis and help support our various events and projects.
TTW is mostly funded in two ways: through donations from supporters at our various events, and by grant funding.
This funding helps us to set up and deliver projects and events and contributes towards core running costs.
Since our inception, we have received funding from a wide range of sources, including local, regional, and national charitable trusts and foundations and we are incredibly grateful to everyone who supports our work.
Particular thanks to all Co-op members who kindly chose us as their Co-op Cause, the proceeds of which funded this website.
Previous funders include:
The Rampion Fund at Sussex Community Foundation (Repair Café and Eco Open Houses)
Worthing Community Chest (Repair Café)
National Lottery 25th Anniversary Fund (Community Greenspaces)
Waitrose (Repair Café)
Tesco Bags for Life (Energy Shop)
Co-op (Beach Clean and this website)
Southern Water (Beach Clean and Community Greenspaces)
Adur and Worthing Council (Community Greenspaces)
WSCC CIF fund
Worthing Homes, Henry House and Centre for Sustainable Energy (Eco Open Houses)
The National Lottery Community Fund (TTW Sustainable Map of Worthing)
What is Transition?
Transition is a movement of communities coming together to reimagine and rebuild our world.
It is about communities stepping up to address the big challenges they face by starting local.  By coming together, they are able to crowd-source solutions. They seek to nurture a caring culture, one focused on supporting each other, both as groups, or as wider communities.
The whole ethos of Transition is based on Permaculture Ethics and Principles and so everything we do is underpinned by them.
In practice, they are reclaiming the economy, sparking entrepreneurship, reimagining work, reskilling themselves and weaving webs of connection and support.  It's an approach that has been growing since 2005 and which now covers over 50 countries, in thousands of groups: in towns, villages, cities, universities and schools.
Transition Town Worthing - The Early Stages - by two of the founder members Rod Thick & Lisa Leach
In the early 2000's Worthing Green Drinks used to meet in what is now called the Grand Victorian Hotel about once a month to discuss environmental issues.
There was a mixture of people from green groups, NGOs, political parties, and local businesses. It was a great way of catching up with people you knew and also for making new contacts. It was an organic, self-organising network. Different speakers and events were held each time with an environmental theme.
At one of these meetings a speaker talked about Transition Towns - this was something few in the group had heard of. The talk generated great interest and after some conversations it was decided to set up Transition Town Worthing. A group of about six started meeting at Beechwood Hall Hotel discussing how to bring this forward; there was much lively debate on what to do.
They started by studying "The Transition Handbook" by Rob Hopkins – the founder of the Transition movement - which was then in its infancy, and from there a committee was set up to come up with ideas. It was agreed that a steering group should be formed, a constitution written and officers such as Chair, Secretary, Treasurer appointed. Other members with various skills came on board - i.e. environmental, legal, and representatives of local community groups. By October 2009, Green Drinks had grown into Transition Town Worthing, the steering group meeting regularly at The Ardington Hotel.
One of the group's first actions was a stall at the Rotary Fair in Steyne Gardens, this brought in many new members. Then groups were formed that included Energy, Transport, Food and Wellbeing. During the early stages there were many events with films, speakers & social events. One social event that was very popular was Tea with Transition where members could meet for tea and cakes at St Paul's and discuss any issues related to Transition; also, non-members could come to find out more. Popular workshops included re-skilling, including tool sharpening, and knitting blankets for the homeless.
A daytime group for those unable to make evening events was formed, those attending were older people plus young mums and dads who would also bring their children. In a short space of time over 500 people were involved with Transition Town Worthing. Another popular event was a whole month of activities at the Heene Rooms with displays, information on the various groups, films, and social activities such as Open Mic Evening
The Food Group was very active and sociable, and included things like how to preserve harvest, fermenting and local food mapping - showing where all the local producers were, and where to buy their produce. Apple tree pruning workshops ran each spring but maybe the most successful thing to come out of this group was the Seed Swap Sow and Grow Spring Fair, that still runs every year and is one of TTW's best fundraisers, as well as being a lovely family event, showcasing not only everything that TTW is doing but also projects from other local groups, so everyone can see what an impact they are having on the local community.
The Transition Movement is primarily about exploring and demonstrating the positive actions we can make ourselves as individuals or as communities, rather than campaigning for others to make positive actions. As many of us believe that action on the part of government and business is also vital, another organisation was formed - Worthing Climate Action Network - with many of the same faces among it, creating a platform for the people of Worthing to campaign on climate change.